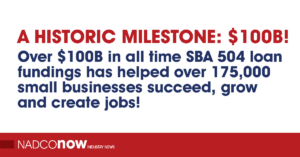 Join us as we celebrate a huge milestone for the CDC lending industry.  CDC lenders and the SBA have helped over 175,000 small business owners receive  $100,040,561,000.00 in all time SBA 504 financing.  The total impact, which includes the financing from third party lenders, has supported over $250 billion in local economic development across the nation.  
We applaud the hard work of the CDCs, their lending partners, the SBA and 504 champions in Congress for their commitment and focus on making a difference for small businesses.  Our collaboration and shared mission has ensured that small business owners across the country get the financing they need to succeed, grow, create jobs and enhance their local communities.    
Reach out to us to see how the 504 loan program can help your borrowers!